Here is something cool. I just came out of my classroom where I finished the second day of conducting a CPHI training (Certified Professional Hypnosis Instructor). CPHIs are the trainers of the NGH Certification Course (with 5-PATH® and 7th Path Self-Hypnosis® included in the course).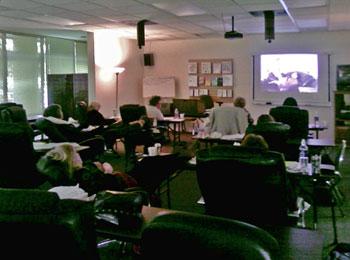 What is cool is that we have our classroom wired with cameras that enable us to broadcast our classes over the Internet live. So, while I was in my classroom teaching here in Tustin, California, one of the CPHI candidates was sitting in Texas, and the other in Singapore, both taking the course live! In addition to them being able to interact with me they were also able to interact instantly with their classmates.
In the photo above you see the classroom filled with "onsite" students, while other students are participating in different locations, "offsite". In this case they are all watching me work with a client (which was previously recorded on video). I'll have to get another photo of me teaching up in front of the class in our hightech classroom. 🙂
I just love technology. I have also done this with my Week of Power Advanced Hypnotherapy Certification Course in the past, and next month I will be doing this for the first time with the NGH Course! I'm making history!
By the way, the onsite seats are full, but offisite (live through the Internet) enrollment is still available. At this time we have 5 offsite students enrolled and can take one or two more.
I just love this stuff!