I just love sales, don't you?  This week you can save $39.99 on M. Ron Eslinger's HypnoAnesthesia for Pain Management (8 DVDs & 2 CDs).
This is a whole pain management system for hypnotists. Study this program and you can expand your practice now.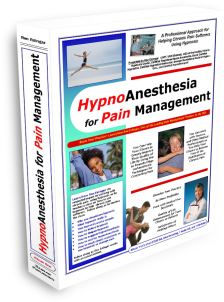 Learn more about this program or purchase it now. 
The complete two-day course is contained on a set of DVDs, plus there is also a CD with the hypnotic music that Ron Eslinger uses for his pain management sessions, and the entire course manual is on another CD.
• Set of DVDs containing the entire course.
• Hypnotic Music CD
• The Complete PowerPoint HypnoAnesthesia for Pain Management presentation on CD
• Packed for easy shipping.
This is the only seminar that teaches the four non-pharmacological pain control methods and their relationship to hypnosis.
More information about pain management from Ron Eslinger:
See the whole range of Ron's instructional and self-help offerings!
Listen to the Ron Eslinger (AOL users click here).