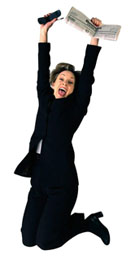 Today I received a comment from one of our readers and she wanted to know about making that big step from taking a basic training course to starting her own practice. I know that this is of interest for many of you who read this blog, so I am posting my response to here.
Hi Rebecca,
Thanks for your question. When you choose a school, make sure that there is LOTS and LOTS of STRUCTURED time during the course available for practice. If you don't get this time during the course you will not have the confidence to move forward and really hypnotize paying clients.
Also, make sure that when you pick a school that there is plenty of ongoing support. Now instructors can do a great deal to help their grads succeed. For example, we have a Yahoo Group for our students, we answer emails, we take phone calls, we do paid supervision time, and we have articles on our websites to help you make that big step from graduation to starting your own practice.
Make sure you join our new network for hypnosis professionals around the world, for even more support, not matter where you are or what school you choose. Go to www.OurHypnoSpace.com and get your own site with a blog.
Here is another great resource. Have you seen the Banyan Hypnosis E-Zine on the www.BanyanHypnosisMall.com website yet? There are some really great articles written by one of our grads, Celeste Hackett, on how to get started (spending very little money in the process). She also has a really great video on her blog on www.OurHypnoSpace.com. AND, today we will probably be posting an interview that I did with her this week, which has more information for those like yourself who are just getting started.
How did I get started? I took the course, and then read a lot, watched a lot of videos, listened to a lot of audio programs, and set a date to open my new center. That day came about 3 months after I graduated, and then I saw my first paying client, and have been full time in the profession ever since.
Here is some additional reading on this blog that I would recommend:
I hope that helps you out!
Here is to your success,
Cal Banyan