It's called a ClusterMap!  I ran across this really cool utility a few weeks ago and decided it would be really great to be able to see where our visitors are coming from.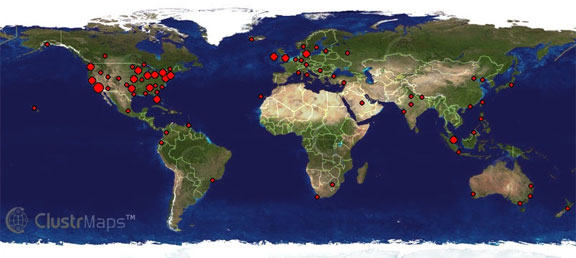 The map above is a quick "snapshot" of our current ClusterMap.  All the red dots on the  map show where someone who visited our website is located.  The larger the red dot the more people have visited our site from that area.
The map has been up for about 10 days.  If you look at the upper right hand side of this page you will see a smaller version of it.  Any time you come to our site you can click on it and see the latest results. 
See if you can find where you are on the map.  Don't worry if you don 't show up right away, it may take a day or two for the map to be updated.  And, by the way, you don't have to do anything other than just visit our site for you to be added to the map.  It is fully automatic.
Thank you, visitors from around the world, for visiting my website!  I hope you will continue to stop by.  Please tell your friends about us, we have some exciting plans for the future of our site, so "stay tuned" as they say.  🙂