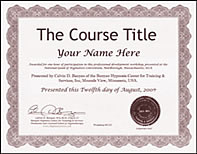 Here is the latest news blast from the NGH. It is plain to see why the NGH has been around for so long and so many upstarts become irrelevant!
Remember, when you go to the NGH Convention you are attending "The Sure Thing" because no other hypnosis get together of any kind matches it for quality and friendliness.
While you are there stop by my booth and say hello. Everyone who attends one of my workshops or talks receives a high quality certificate of attendance. I figure if you take the time to invest in your professional development by coming to the convention and attending one of my workshops you should walk away with something to show for it.
By the way here is a list of the courses I will be teaching at the convention:
How To Go Full Time In Hypnotism—Application Of The Banyan Star Business Model For Building A Highly Profitable Practice – 1 hour seminar
Advanced Hypnosis For Weight Loss—Go Beyond The Script For Maximum Results – 2 hour workshop
Week of Power, Advanced Hypnotherapy Certification with 5-PATH(R) and 7th Path Self-Hypnosis(R), (7 days pre and post-convention)
Contact the NGH for early registration to ensure that you get a seat these courses do get full and I don't want any of my readers to be left out!
National Guild of Hypnotists Prepares for Record Attendance at Convention
The National Guild of Hypnotists expects largest attendance ever as convention celebrates twentieth year, and convention programs expand to include new training, more speakers, a larger international format, and new Certified Education Units. Merrimack, NH (PRWEB) April 18, 2007 — For the twentieth year, the National Guild of Hypnotists will host their annual convention, exhibition, and educational conference.
The NGH convention offers intensive trainings, recertification, Certified Education Units, networking, and marketing opportunities for professionals who utilize hypnosis in their work. The convention is also open to the public for people with a sincere interest in learning more about hypnotism for themselves, as a career, or as an addition to professional services they already offer.
The 2007 NGH convention is scheduled for August 10, 11, and 12, at the Royal Plaza Hotel & Trade Center in Marlborough, Massachusetts. Convention organizers are preparing for the largest attendance ever in the event's twenty-year history. National Guild of Hypnotists president, Dr. Dwight F. Damon, says, "Every year the National Guild of Hypnotists convention surpasses the previous year in the number of dynamic speakers, programs, and attendee benefits offered.
Each year the NGH convention finds new ways to educate, support, and reward the attendees, but this year will definitely top all others." The National Guild of Hypnotists has over 10,000 members, representing 65 countries around the world. There are NGH certified trainers in 44 US states and 27 countries. With 280 seminars and workshops scheduled during the three-day event, convention attendees can customize their participation, allowing them to take advantage of exactly the topics that benefit them most.
NGH president Damon explains, "Our training programs are conducted by award-winning speakers, published authors, and trainers and authorities on professional hypnotism. Twenty-seven of our speakers are from outside the United States. We may be the National Guild of Hypnotists, but this is truly an international event." This year's National Guild of Hypnotists twentieth anniversary convention will be held at the Royal Plaza Hotel & Trade Center in Marlborough, Massachusetts. For registration information, call the NGH Registrar at (603) 429-9438. For hotel reservations, convention attendees should call (508) 460-0700.
To learn more about NGH, visit their website at http://www.ngh.net Daily convention and NGH news is updated on the National Guild of Hypnotists blog: www.nghconvention.com The National Guild of Hypnotists, Inc. is a not-for-profit, educational corporation. Founded in Boston, MA, in 1951, the Guild is a professional organization comprised of dedicated individuals committed to advancing the field of hypnotism.
National Guild of Hypnotists president, Dr. Dwight F. Damon, is available for media interviews at (603) 429-9438.