Meet Gerald F. Kein, Master Hypnotherapist, Trainer and Presenter
Undoubtedly Gerald (Jerry) F. Kein is one of the greatest hypnosis and hypnotherapy instructors who has ever taught a class or created any kind of educational materials on the subject. He has been in the profession for over 30 years and has taught over 2,000 students face to face, if I have my numbers right, he has trained thousands more through his many video training programs and live presentations.
Jerry is and has always been, my greatest influence in the profession. It was back in March 1996 that I first met Jerry. I atted ed a 7 day certification course in Florida that he was teaching, and it was through that course that I entered into the profession as a full time hypnotherapist. But, it was not just his 7 day course that got me started, I bought about 13 of his videos and headed home. I then proceeded to "go to school" on those materials. It was just the kind of training that I wanted and have since then put to good use. Yes, I have studied many of the other masters in the profession, including Dave Elman, Harry Arons , Gil Boyne, Charles Tebbetts, Roy Hunter, Jerry Valley, Ormond McGill, and so many others, but it has been Jerry's teaching that has affected me and what I teach most profoundly.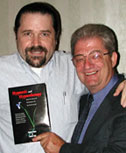 Thankfully, after all these years we still have him with us even after some medical challenges. I strongly encourage everyone to get his videos, and attend his live training programs. As a matter of fact one of the best ways to do that would be to attend this year's NGH convention. Jerry has received just about every award and honor that you can imagine in the profession, however, I was extremely proud to present him with the 5-PATH Lifetime Achievement Award just a few years ago. I presented him that award through tearful eyes at a the 5-PATHers Annual Reunion in New Hampshire. I gave him that award with overflowing gratitude for what he has done for me and the profession. I am proud to be called a "Jerry's Kid."
And you Jerry, if you ever read this I want to say, "thank you" for all that you have done in and for the profession. You are a Master Hypnotist, Master Hypnotherapist, Master Presenter and Master Educator. You are also an in novator in the field of hypnotism. And, I am so proud to be associated with you through our work in the book, Hypnosis and Hypnotherapy: Basic to Advanced Techniques for the Profession. You are, and will always be a great inspiration to me!