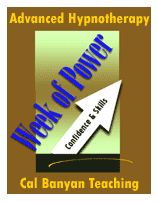 It was wonderful being able to go to London and conduct my Week of Power Advanced Hypnotherapy Certification Course.  It was especially wonderful for me because I have always wanted to go to London, and this was my first time.  While I was there I made the conscious decision that I would not worry about my weight loss program while I was there.  I didn't purposely go too wild, but I did  not restrict my ability to try out all the wonderful foods and English ales while I was there.  And, I knew that I would come home with plenty of time to slim down for the convention.
I reasonably anticipated that I would gain a bit of weight while I was gone, perhaps around 5 pounds, but I have to admit that I was surprized when my monthly weigh-in showed that I had gained almost ten pounds (9.8) in just two weeks! 
So, here I am as determined as ever to get right back on track and continue my weight loss program.  I hope everyone will check back next month and see how I am doing, and also come to see me at the convention in August to check me out in my new slimmer and healthier form!  I know I can do it, and if you want to lose a few pounds before the convention, decide to do that now, and I know that you can do it too.
My current weight loss by using hypnosis program is now 18.4 pounds.  🙂