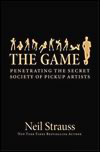 Well, I just got in last night from London.  I had a great time teaching my Week of Power course, and I'll probably write some more about it in a day or so.  But first I want to send out a "Thank you."
Over the last year or so, every once in a while I'll have some hypnotist come up to me and tell me something like, "I see you managed to get into another book!"  "What book?" I'd ask.  "The Game!" would be the reply.  Today a client even asked me if I was the hypnotist mentioned in the book.  Well, that did it.  I had some time today and I went to Amazon.com and did a bit of research.
I found it!  Thank you, Neil Strauss, for mentioning me in your book, The Game, as being, "one of the field's [professional hypnotism's] most respected teachers".    It is always nice to be mentioned in a best seller!  Thanks again.