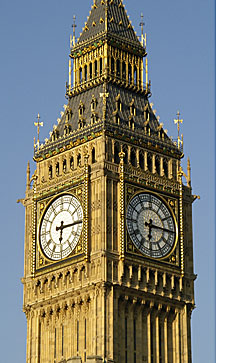 Hi everyone!  Take a look of the snap shot I took of Big Ben as my wife, Maureen and I were riding around in the tour bus.  Not bad for a guy hanging off the side of the bus in busy traffic!
We got here a few days early to check out the sites and visit with some of our grads here in London and the surrounding areas. 
It has been great fun trying out the English ale, foods and seeing the English country side.  It is all wonderful, but soon I will have to get to work!  (oops, I may have gone a bit off my diet.  We will just have to see how weigh-in goes when I come back.  I think there will be time to catch up and still achieve my weight loss goals by convention time.)  🙂
Monday is the first day of class.  So, if you have been thinking of taking this Week of Power Advanced Hypnotherapy Certification Course and for one reason or another you were waiting, now is the time to sign up.  Call, these London mobile numbers, 07942-064955, or 0800-458-6686, right away so that we can make sure there is a seat for you. 
I hope to see you in this advanced hypnosis training class.  It is going to be wonderful! AND, it is going to be much more than I have promised!  Just 950 Pounds for the whole week, certificates and all required materials.