The other day I noticed that one of the email groups that we moderate and sponsor on Yahoo.com was buzzing with questions about how to make and market hypnotism CDs. That made me think, "Who is one of THE biggest experts that I know in doing this?" Well of course it is Tom Nicoli, and I know that he has done some very highly rated workshops on the topic at the National Guild of Hypnotists convention. So I went to work.To learn more about Tom and learn much more about the training programs that he offers go to www.tomnicoli.com.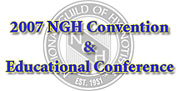 Thanks go out to the National Guild of Hypnotists leadership and Tom Nicoli for letting me make this excellent workshop available to your for FREE as a download. I think that this attests to the professional and generous nature of both Tom Nicoli and the leadership of the NGH.Now to respond to the kindness of the NGH Leadership let me say a few things about the upcoming NGH convention in August. I hope you will all make the NGH convention your priority for your ongoing hypnosis training and networking this year.Why you should go to the NGH convention this year:
Celebrating 20th Convention Anniversary so you know it is going to be special. If you have ever thought of going, and never have, this is the convention to make sure that you get to.
Even more professional than before. For the 1st time ever there are nursing and counselors track courses for CEUs. The NGH was selected by the associations that monitor CEUs for these professions.
Reasons to go every year:
Established, so you can be confident that you will have a quality experience.
Exclusive content from the best known and respected authorities in the profession.
NGH CEUs for annual recertification.
Support the Organization that has done more to support our profession than any other organization. (Union and strength in numbers.)
Rub elbows with licensed professional in hypnosis (and make new friends).
Be a part of the tradition of over 55 years in the profession.
Largest and friendliest convention bringing hypnotists together like none other.
Special interest groups to provide information for special interests, like 5-PATH®, Clergy and other professions.
200+ speakers on a wide range of topics, including free seminars.
Special pre and post convention workshops for specialized certifications.
Award winning well known authors and trainers from around the world: 27 of the speakers are from other countries (about 10% of the speakers). Not international in name only but truly the NGH is an organization that is international in scope.
World wide presence with materials in as many as 10 different languages, with 10,000 members in 63 countries.
"Membership has its privileges", as they say, become a member and you will receive professional publications (HypnoGram and the Journal of Hypnotism).
I could go on and on. I never miss this convention. So make sure you go, and I'll see you there. I'll be doing two talks during the convention, and also giving my entire 7 day course, the Week of Power Advanced Hypnotherapy Certification with 5-PATH® and 7th Path Self-Hypnosis®.To learn more about the NGH and the upcoming, must see hypnosis convention go to, www.ngh.net.Oh, and of course here is the download of Tom Nicoli's workshop, How to Create and Market Hypnotism CDs and Create a Passive Income. This file is 36MB so I recommend downloading the file by right clicking the link and hitting save target as.; http://www.calbanyan.com/wp-content/uploads/2007/04/hypnosiscdsnicoli.mp3By the way, this is a three hour program, a $75 seminar, that the NGH and Tom Nicoli are allowing you to download for free. I hope you will enjoy it and learn a lot.Click here to register for the NGH Convention.