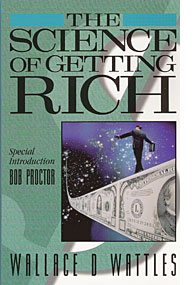 A few months ago I started a discussion group on Yahoo to write about The Secret movie and the Law of Attraction. One of the members of that group asked me to do something I haven't done since high school, write a book report! He wanted me to review The Science of Getting Rich, by Wallace D. Wattles. I don't remember the exact format of what a book report should look like but I decided to go a head and give it a try. I hope you find it useful.
I have to tell you that this is the "little book that roared" and really started the self-improvement movement way back in 1910. I am currently reading and rereading this book and now studying the Science of Getting Rich (SGR) Program produced by Bob Proctor, Jack Canfield and Michael Beckwith, all teachers featured in The Secret movie. And, to tell you the truth I can't remember when I was ever so excited about something. Everyone needs this. Get the book, and if you like what you read get the SGR Program. It will change your life.
Here is the main premise of the book, "There is a thinking stuff from which all things are made, and which, in its original state, penetrates, and fills the interspaces of the universe. A thought in this substance produces the thing that is imaged by the thought. I can form things in my thoughts, and by impressing my thoughts upon formless substance, can cause the thing I think about to be created".
The book goes on to talk about why and how this works, and how and why you should get good at using this principle. There is also a very good discussion about why we should go from using our minds in a competitive way, and start thinking in a more creative way (Competitive Mind vs. Creative Mind).
To get the book, go to this page on my blog which has Podcast #29.There is a link you can click and get a free e-book version of the book, The Science of Getting Rich, by Wallace Wattles.Go to www.CalBanyan.com and scroll down,
To Podcast #29. Get the Science of Getting Rich Seminar Program here, www.CalBanyan.com/sgr. (This is a life changing seminar and once you begin to study it you will want to make sure that everyone you care about studies it as well. It is worth it's weight in gold, literally!)
You can see some really cool videos from and inspired by The Secret movie by going here, http://www.calbanyan.com/sgr/lawofattractionvideos.html


Click the image above to view the videos.