Can you feel the energy building with each lesson?  I can!  I have been waiting for this one entitled, The Process for Rapidly Attracting Abundance:  The Step by Step Process to Get into the Right Mindset to Manifest Your Goals.  Yep, now we are "talking"!
Before I go any further I want you to ask yourself, "Do I really believe in the Law of Attraction?"  If the answer is "yes", then you understand that all laws, like the laws of physics are constant and that they are always in play.  So realize this, the Law of Attraction is always operating whether you are using it to your advantage or not.
This process takes 4 steps: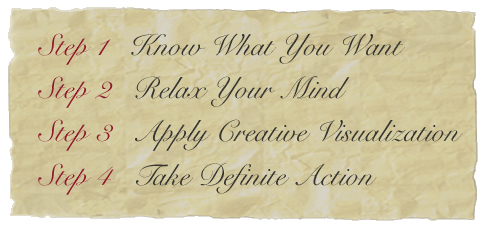 7th Path Self-Hypnosis® practitioners are using these steps already, and the feedback from around the world has been absolutely wonderful.  We have received exciting reports, including physical, emotional and spiritual healings, as well as all forms of abundance. So, I know that the approach taught in Lesson 5 will work.  (So here it is for all of you who have not learned how to do it the 7th Path Self-Hypnosis® way.)
Get Lesson 5, and you will learn a very simple way to bring all four steps into action together.  I really like the way that this lesson talks about how emotions (the stronger the better) drive this attraction process!  It's easy once you get the hang of it.  If you haven't already you can start getting your free lessons.  Just go to, www.banyangroup.thesgrprogram.com.
Now let me say something about Bob Proctor's new program based on Wallace D. Wattles book, The Science of Getting Rich.  We just received ours a few days ago, and want to tell you that we just could not be more happy, grateful or satisfied with it. It surpassed my expectations in every way.  All I can think about now is how this information can help the people I love and care about, and how those changes can radiate through the world.From my heart to yours, let me say in all honesty, that if I have failed to convince you to first start getting the free lessons and then to get the whole program, then I have failed you. So, if you have not yet ordered this program, then, do so now. As soon as you begin to go through this course, and begin to integrate these great ideas into your life, you and our family will be wonderfully blessed by it.Decide now to go to www.banyangroup.thesgrprogram.com and get this program today. I know that my wife, Maureen and I have been blessed by it and I believe you will to.