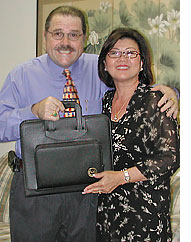 We were like two kids on Christmas morning when the delivery arrived at our office today! Wow, were we impressed by everything about it, and immediately know that we had received something of great value.
Everything about the program, from the box in which it came in, to the protective case inside of that, to the beautiful leather briefcase is impressive. Our excitement grew greater when we opened it up and looked at the contents. Everything was beyond our expectations. There is the rich looking tabbed manual, the artfully designed inserts and posters, and the MP3 already loaded with the audio program.
I just want to say "WOW" all over again. This program is very professionally done, and first class all the way.
If you have been thinking about jumping in and getting, The Science of Getting Rich Seminar for yourself, jump now! It is worth far more than the price they ask.

Learn more about The Science of Getting Rich Seminar, and the affiliate program that is a real bonus that comes with the course.
Click here to learn more, www.CalBanyan.com/sgr.
Order your Science of Getting Rich Seminar, and join the affiliate program, and let's grow rich together.