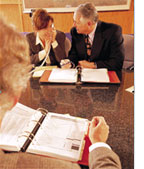 Hello Everyone! Thanks for you email asking questions about "Dr. Harte's CERTIFIED CORPORATE CONSULTING for Hypnotists". We are answering each email and when appropriate forwarding them to Dr. Harte. In the mean time I want pass along the "Official Announcement" so that you know more about the program!
Once again, this program is not a basic course on how to hypnotize, or certification in hypnosis. This is a course for professional hypnotists and hypnotherapists who want to expand their practice of hypnosis and begin working with small to medium sized businesses.
This is a great way to expand your practice, increase your income and make your practice of hypnotism more interesting and perhaps more challenging. If that sounds interesting to you, then keep on reading.
SPECIAL NOTE: Check the bottom to read about a free live program with Dr. Richard Harte this Friday (March 30th).
Dr. Harte's CERTIFIED CORPORATE CONSULTING for Hypnotists

Imagine yourself in a corporate training session.It's you, delivering a much needed Stress Management program for key employees or together with the Vice-President of Sales strategizing about a new sales persistence training program to be implemented by you. And further imagining, the CEO of a Fortune 1000 company or a small to medium size company with a few of his top people. You are called in today to help advise them on a major decision. Depending on your advice, the CEO and/or business owner will either succeed or fail.

Think this scenario seems farfetched? Think it's something that only hotshots from major consulting firms such as Bain, Booz-Allen or McKinsey would deal with? Think again!

Regardless of your previous career track or your current status (part time or full time hypnotist or hypnotherapist, or just certified), you can become a high-level trainer and consultant (and earn a six-figure income) just like those Bain, Booz-Allen and McKinsey hotshots. How? By enrolling in Harte's Boot Camp.

Harte's graduates are a trained corps of individuals who are comfortable in the business environment and want to expand their hypnosis practice and make it more profitable, and would like to provide a vital service to some of America's small, medium and large sized companies.What they share is their rigorous training regimen, something instilled in them by Richard Harte, PhD and his one-of-a-kind "Consultant's Boot Camp".

Transform Your Hypnosis Practice:

In Dr. Harte's remarkable, four-day training program, hypnotists and other professionals have transformed their lives. Like Harte himself, who consulted to scores of Fortune 500 companies over a multi-decade career, graduates of his "boot camp" learn the subtle and not-so-subtle skills of strategic training and consulting. They also learn in depth the concepts of imagination, persistence and goal setting, so important in today's modern corporate America. And, while the Boot Camp only lasts four full days, Harte's Boot Camp grads have an ongoing, year–long relationship with Dr. Harte himself who stays in touch and helps his "corps" overcome initial obstacles and persevere in their newly chosen careers (part-time or full-time).

What a graduate of the course had to say:

"The training we received from Dr. Harte in his Certified Corporate Consulting Program has given us a structure to reach out to corporate America with a variety of turn-key training and consulting program".

Bee Yap and Virginia Arnold

New York City, New York

This intensive course will help re-shape and re-create the individual who recognizes that he or she has not yet achieved the full benefits that the profession of hypnotism has to offer.The goal of this course is not only achieve financial success but the rewards that go along with being successful. These include positive self-esteem, feeling productive, and developing new and interesting relationships.

Feel Lost and Want to Build a Strong Practice?

Countless books and articles have been written about a vast, new class of middle-aged Baby Boomer professionals who feel that they have not yet lived up to their life's potential: they're either a hypnosis professional who has not yet accomplished all that they wanted to within the profession or they are other individuals who are stuck in a dead-end career, have been recently downsized from an unhappy job or having retired, find themselves totally bored, unproductive (and scared that they'll outlive their savings ).

Most hypnotists and hypnotherapists get into this profession to help others, but sadly, lacking the necessary business skills, many fail to reach their financial goals, and some are unable to make the leap from part time to full time in their business.And then some, who have already been immensely successful, are looking for new areas to conquer.

Harte's consulting program is a powerful, proven alternative to mid-life angst, career malaise, and stagnation.Graduate from this Boot Camp with new and exciting skills position you for much more success: a Trainer/Consultant who can command a CEOs attention and respect; a self-confident professional who is in total command of his or her future career path and an entrepreneur who has not only set forth as his or her own boss (but has the luxury of a safety net named Dick Harte, who will be there at your side for the entire first year after your training). Harte's grads are out there working every day proving that this program works.

Location:

Banyan Hypnosis Center for Training & Services, Inc.

1431 Warner Ave, Suite E

Tustin, California 92782

Date: May 10- 13, 2007

Contact:

Maureen Banyan

800-965-3390

714-258-8380

More information: http://www.BanyanHypnosisMall.com
Well, there it is. That should give you all a better idea of what this special program is about. If you think you have the right stuff I encourage you to call us right away and we can get you the information you want, or get you in touch with Dr. Harte.
Oh, and here is the SPECIAL ANNOUNCEMENT!
I just settled it with Dr. Richard Harte. He is going to do a Meet the Pros seminar on Friday with me. It will be at 4:30 PM Pacific Standard Time. Here is the title of the talk, and a quick look at what he is going to cover.
MAKING MONEY THE SMART WAY
You will learn:
How to expand your opportunities using your hypnosis skills to significantly increase your income
How to maximize the value of your working hour.
How to impact a larger audience using your hypnosis skills
How to market yourself as a trainer/consultant in demand
How to become an expert working with groups
How all of the above will get you more free time to play
By the way, in case you didn't know it already, these Meet the Pros seminars are free!
If you are interested, email John@hypnosiscenter.com and he will send you the information so that you can participate (i.e., password etc.). These seminars are really great because you get to watch live video of the program as it happens, and if you want you can interact with Dr. Harte and myself. It is fun, easy and informative.