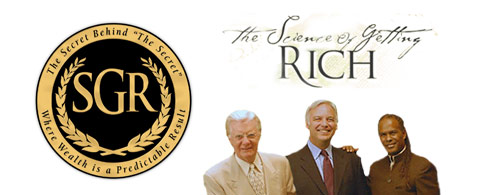 Well, as you all probably know I am absolutely amazed with the quality and effectiveness of the new program put out by those 3 famous teachers from The Secret movie, Rev. Michael Beckwith, Jack Canfield and Bob Proctor. The program is called The Science of Getting Rich. But let me tell you, it is really a program that teaches you the science of getting what you want, and how to be happy by living your most wonderful life.
Personally, I have been studying this program for about a month and it has made a huge difference in my personal and professional life. I have never been more excited, focused or more insightful about what I am doing, nor have I ever had so many good things and ideas come into my life to help me do the things that I want to do. I am really working with the Law of Attraction now, just like I have always wanted to since I first saw the movie, The Secret. The principles that I am learning in this SGR Program is making everything that I am doing right now more magnificent.
As I'm writing this to you, I'm thinking that I know that you all get emails like this all the time with bla, bla, bla, and you just have to get this program, or take that course, etc. But, I want to let you know that this is really something special, so this is what I have done. I've placed 16 audio tracks on a webpage that you can visit and listen to at your convenience. I believe that after you have listened to those first tracks you will have a very good impression about how life changing this seminar program really is.
Here is the link, http://sgr.calbanyan.com/av.html
You will learn how to:
Increase your ability to draw what you really want into your life.
Increase your insight into what you really want.
How to skillfully & effectively use the Law of Attraction just like in the movie.
And, much more.
Go there now I know that you are really going to enjoy what you see and hear (there are some great video clips there as well).