It was a beautiful day here in Southern California, and just like I said in an earlier blog publication, Maureen and I were going to go to the Health Freedom Expo in Long Beach, California.  But, to add to the story, a few days ago Gerri Johnson, President of the National Health Freedom Coalition gave us a call.  She wanted to talk to us about taking on a leadership role in the organization.  We were excited about talking more about it.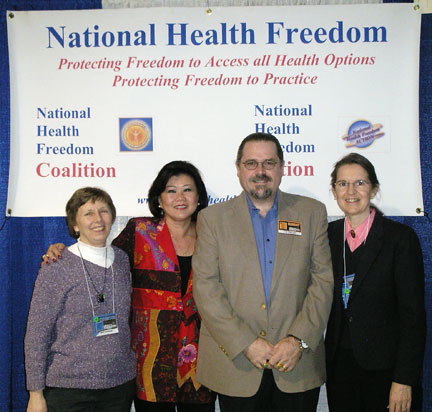 Gerri Johnson, Mareen Banyan, Cal Banyan, Diane Miller.
So today we met with her, Clinton Miller, a long time advocate for health freedom and Diane Miller, the legal mind behind the organization, and we talked about what that leadership role might be.  We talked about why this organization is so important to everyone, yes, everyone including hypnotists.  First off, let me tell you a bit more about the NHFC.
The NHFC is a grass roots organization that works to help everyone by working to get laws enacted so that you can choose your health care provider, and to prevent over regulation of who can provide alternative health services.  They have successfully worked to pass laws in at least six States.  As a result, you have greater freedom to decide which health practitioners you can seek services from, and the government has less power to tell you what kind of vitamins and other food supplements you can take.  Basically, they have been doing a great job.
From a hypnotherapist's point of view, they are THE most important non-hypnosis organization for you to belong to.  Because of their work, hypnotists can practice freely in Minnesota, California among other states, and they are working diligently to help other states enact the same legislation.  So when they asked Maureen and I to help out, we eagerly said, "How can we help you?"
Diane, Clinton and Gerri told us more about the organization and what they would like us to do, they carefully laid out the work that needed to be done.  We learned that there are really two organizations that work closely together.  First, there is the National Health Freedom Coalition, which has education as it mission.  And, secondly there is the National Health Freedom Action organization, which has as it's main mission to do the legal work, and work to enact, and help each state to enact Health Freedom Legislation.  To make a long story short, as they say, Maureen and I were invited to become members of the board of directors of these two very important organization of the organization.   After some discussion, it was decided that Maureen would join the Board of Directors of the educational branch, the National Health Freedom Organization, and I would join the Board of Directors of the National Health Freedom Action organization.
We are honored to have taken on this new role, and we promise to do our very best to enable everyone to have the kind of freedom we should have, and the ability to make an informed decision about who we seek services from, and at the same time help to make sure that hypnotists are an important part of this movement, and are specifically protected by the legislation which is passed in the future.
We look forward to receiving your comments and questions.