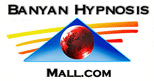 Announcing our Complete Hypnosis Training Course Schedule for basic, advanced and specialized hypnosis training! If you want to keep up to date with all of the training that we offer at the Banyan Hypnosis Center for Training & Services, Inc., including our guest trainers, and the hypnosis training listed on the Banyan Hypnosis Mall you only need to look one place. Check out our Complete Hypnosis Training Course Schedule, which will now always be posted right here on www.CalBanyan.com on the right side of your screen. Here is a quick look at some of the courses that are coming up that you will want to know about.
March, 2007
National Guild of Hypnotists Approved Hypnotherapy Certification  At the Banyan Hypnosis Center, Tustin, CA – Instructed by Cal Banyan – March 5-9 and 12-16. Description: Complete hypnosis certification course preparing you for a career in hypnotism. Includes manuals, ongoing support, and much more.
April, 2007
Finding True Magic Transpersonal Hypnotherapy/NLP Certification Training  In Seattle, WA. Instructed by Jack Elias, 6 Weekends: Apr. 20-22; Apr. 27-29; May 11-13; May 18-20; June 1-3; June 8-10. Description: Expand your competency and your consciousness with this radical approach to healing communication that joins your spiritual consciousness and your intellectual skills. This unique program created by Jack Elias, author of the internationally acclaimed book, Finding True Magic, brings you insights and techniques from ancient Eastern spiritual traditions such as Kashmir Shaivism, Vedanta, and Buddhist Tantra and integrates them with the latest scientific and therapeutic insights from the West.
May 2007
The Harte System, Corporate Consultant Training  At the Banyan Hypnosis Center, Tustin, CA. Instructed by Dr. Richard Harte. May 10-26.  Description: Dr. Richard Harte trains you on how to become a consultant to corporations who can use your hypnosis skills. Includes manuals, and mentoring.
!!! Listen to Dr. Harte's Meet the Pros Seminar Now !!!
Learn about corporate consulting now.
Remember to check our Complete Course Schedule to see the rest of the great courses at the Banyan Hypnosis Center for Training & Services, Inc.