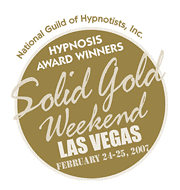 I hope you have made arrangements to be with us at the National Guild of Hypnotists, Solid Gold Weekend this February 24th and 25th. It is going to be an exciting time filled with tons of information, and top notch hypnosis training.
When you go to this big event you get incredible access to all of the speakers. You will have the opportunity to pick up some great hypnosis related books, CDs, DVDs, and just about everything else that you want for your hypnosis office.
Meet Dr. Dwight Damon the President of the National Guild of Hypnotists, probably the most important man in the profession over the last 15 – 20 years!
Here is a link to my previous announcement about this big hypnosis event so that you can get all of the details.
Here is a list of the speakers for this year:
Shaun Brookhouse
Ron Eslinger
Arthur Leidecker
Patricia MacIsaac
Don Mottin
Richard Sutphen
Cal and Maureen Banyan!
This is going to be a great opportunity to learn a lot about the hypnosis business and about a wide range hypnosis related topics. You will leave with a whole bunch of new ideas that you can use to be more successful the very next week.

My talk is going to be on the Banyan Star Business Model. Just go to, http://www.hypnosiscenter.com/star and you will see what I will be talking about. Attendees will learn how to make more money, see more clients and have more variety in their practice. And, while you are there make sure you come by and say hello. I just love talking about this stuff. Plus, I'm on a crusade to make new friends out here on the west coast after our move from Minnesota to California.

Maureen Banyan is going to be talking about how to dress of the kind of success you want in this profession, and how to turn phone calls into appointments. I think everyone will want to hear that. Here is a link to a Podcast she just did on just those topics about a week or so ago. Check out all of our podcasts for free hypnosis training audio and video programs.
If you have any questions about the NGH Solid Gold Weekend go to www.NGH.net.
See you there!