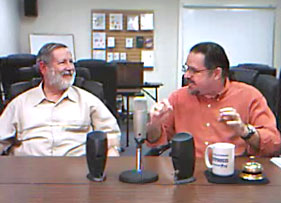 Hello everyone and thanks for checking back! I have a wonderful surprise for you all. This last weekend I received a call from Roy Hunter, the award winning hypnotherapist and author while he and his wife were walking around Disney Land! (I knew it was a good idea to relocate to California.)
So, I seized the moment and invited him over for dinner and we had a very pleasant visit and we talked about some of the details regarding his upcoming training here at our center on the topic of Parts Therapy. (I'll post more information about that as details are finalized.) That's when I got this idea! We just did that interview/seminar with Matt Sison and our classroom was still all set up from doing the recording. I asked Roy if he would be willing to do the same thing while he was here in town. He said "sure, I'd love to." So we agreed to get together the very next day at lunch and figure out what we were going to do.
Well, the next day came, Maureen (my wife) and I got to meet Roy's wife Joanne, during lunch. We had a lovely visit, and then I started to get a couple of more brain storms about how I could offer you all some free hypnosis training on my blog. I knew that Roy was on vacation and so I didn't want to take up too much of his time, but I thought if I was really efficient, we could probably do a great deal with a couple of hours in front of the webcam!
I approached him with doing a four part series that I could publish over the next few months here on http://www.calbanyan.com/ as we get closer to the time he comes back to the Banyan Hypnosis Center to do his class. I told him we could record these hypnosis training segments in a couple of hours, and you know what? He went for it. (And, then we did all four parts this last Saturday without our ties, looking very casual, we hope you don't mind.)
As a result, Chris is busy getting Part 1, which is the introductory interview with Roy Hunter ready right now. We should have it up in a day or two.
Here is a quick listing of what is coming up:
Part 1: An Interview with Roy Hunter, Hypnotherapist, Award Winning Writer and Trainer
Part 2: How to Book Appointments and Make the Most of Your Marketing Efforts
Part 3: Hypnotic Convincers, the Story of How and Why
Part 4: An Introduction to Parts Therapy an Advanced Technique for Hypnotherapists
Oh, and just in case you aren't familiar with Roy Hunter, here is a list of recognitions that he has received that I am aware of:
1990 "Voice of the Year" from International Hypnosis Hall of Fame
1991 Outstanding Service Award, National Guild of Hypnotists
1990 Chapter Founding President Award, PNW Chapter of N.G.H.
1993 Dedication Award, International Hypnosis Hall of Fame
1994 Service Award, International Hypnosis Hall of Fame
1995 Outstanding Service Award, International Hypnosis Hall of Fame
1996 Thomas A. Raffa Memorial Award for Outstanding Professional Achievements and Pursuit of Excellence in the profession
1998 Teamwork Award, International Medical and Dental Hypnotherapy Association
2000 Induction as "Author" into the International Hypnosis Hall of Fame
2000 Charles Tebbetts Memorial Award, American Council of Hypnotist Examiners
2001 Charles Tebbetts Award, National Guild of Hypnotists
2004 Outstanding Clinical Contribution Award, National Association Transpersonal Hypnotherapy
2005 "Order of Braid" Award (N.G.H.) in recognition of a life time of outstanding achievement, dedication and service
I hope you will keep checking back to my blog at http://www.calbanyan.com/ so you can see these free video hypnosis training "nuggets." I know you will learn something that you can use right away to make your hypnosis practice more success. You can also see everything that Roy Hunter has on our website by going to www.hypnosis.org. There you will find articles, classes and more.
Remember to use the Share This and Post a Comment links below.