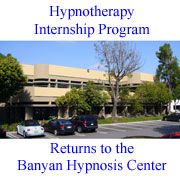 We are very proud to bring back our popular internship program. As I talk about in my Hypnosis Manifesto, this kind of support and training is essential to the ongoing development of our profession and those who will work in the field of hypnotherapy.
Interns who are accepted into this program will be provided with clients and supervision. The minimum term of the internship program is 4 months and can go up to 1 year.
To qualify for this program the candidate must have successfully completed either our 7-day Week of Power Advanced Hypnotherapy Certification Course, or our NGH Approved Hypnotherapy Certification Course. Placement in our internship program will be conducted on a competitive basis. For more information about this program please call our office at 714-258-8380 or 800-965-3390, or e-mail Maureen at maureen@hypnosiscenter.com.