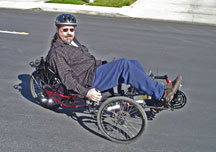 Thanks for checking back for my first weigh-in!  I am very happy to report on my success so far. 
But first, I thought I would take a picture to document my progress (photo on the left).  I decided against the typical weight loss pose of standing against the wall with a frontal photo and profile shot.  So, I hope you like the photo of me on my recumbent trike.  Riding my recumbent "tadpoll" trike is a lot of fun.  If feels like I'm riding a go-cart!  I'll write more about it, and how important it is to have fun while you are getting your exercise in a future post.
Now, I better get back to the subject at hand.  It was on January 4th, 2007 that I started my weight loss program.  But, before I start discussing numbers, I want to thank everyone who has taken the time to leave me a message!  It is wonderful knowing that I have inspired some of you to come along on the journey of health and vitality with me.
Just as a quick review, I posted my starting weight for the whole world to see to get things started.  I have to admit, I wished at the time I didn't have to do that.  But, I knew that I needed to be honest and give everyone the number that represented where I was starting from.  So I got on the scale and took a photo of the display.  The scale could not lie, and I posted the photo of the read-out on that first weight loss blog entry.  I'm placing here on the left so that you can see the nunber, 258.2 pounds!  Then I went to work utilizing my 9-Step Weight Loss Plan.  And, so far I am estatic with the results.
During this first month on my 9-Step Weight Loss Plan I have shed 18 pounds!  I am very happy with the progress so far.  And, of course I expect to drop some more weight by the time I give my talk on the Star Business Model at this year's National Guild of Hypnotists Solid Gold weekend which is just about 3 weeks away.  I hope that all of you have made up your mind to be there.  It will be a great time and we can all talk about this blog and the weight loss program, and the podcasts as well.

Here is a photo of my scale's readout today.  I will keep posting my progress all the way up to the NGH Convention in August.  I will write up my progress in reports just like this one on a once-a-month basis.  So, make sure you check back on March 4th to see how I am doing.   And, just so you know, I do not plan on losing 18 pounds a month from this point out.  I am planning on losing about 2 pounds a week, which I believe is a very healthy and doable pace to aspire to over the long run.  Keep checking back to see if I can do that.  That means by next weigh-in I should be able to post a new weight of about 232 pounds.  At that point, nothing in my closet will fit properly and I'll get to complain about having to buy new clothes!
By the way, I have decided to add one more step to the plan.  Actually, I had 10 steps all along but I didn't realize how important one particular thing I was doing was to the whole overall process.  So, keep checking back for that important update.
Finally, I want to suggest that you subscribe to this blog so that you can get all the updates on my weight loss progress, as well as my ongoing commentary about the development of the profession, and discussion of any hypnosis news that is of interest to everyone in our profession.  Just enter your email in the sign-up field on the right of the home page on www.CalBanyan.com.
PS – It's Super Bowl Day!  I hope that everyone who likes to watch the game has a great time, and may the best team win (and of course that will be the team you are rooting for)!  🙂