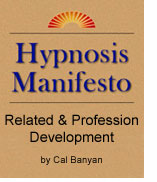 I hear this from time to time, "Hypnotism should only be done by medical doctors (or psychologists, etc)." Please! This simply makes no sense at all. Medical doctors and psychologists simply do not have the training, or time to do this work as well as well trained hypnotherapists!
Many people are surprised to learn that hypnosis and hypnotherapy are not a part of medical or psychological training programs. There may be a note about it here and there in a text book, but they don't receive any serious training in it. (I was surprised to find this out as I studied for my undergraduate and graduate degrees.)
A few doctors and psychologists seek out additional training in hypnosis after they are licensed. And when they do receive hypnosis training through AMA or APA approved training programs, that training is no more sophisticated, nor is it typically longer in duration than that available to others and available through organizations like the National Guild of Hypnotists require for certification. In fact the training that doctors and psychologists receive is sometimes much less, and often has consisted of a single weekend course.
Here is where it gets even more interesting. How many of these medical doctors or psychologists who are "trained" in hypnosis or hypnotherapy practice hypnotherapy full time? I've never heard of such a thing. But many, many hypnotherapists do!
Now, let me ask you this… Would you rather have your surgery done by someone who does it part time, or someone who does it full time? The answer is obvious, the full-timer is the one that would have the opportunity to work on me or my family. I want an expert, a individual who really works in the profession full time.
So next time you hear something like, "hypnosis and hypnotherapy should only be done by doctors and psychologists," bring this up.
Here is another interesting thought, while I am at it. When was the last time your doctor spent an hour or more with you? Probably never, unless you have undergone a lengthly surgery that cost thousands of dollars. Realistically, doctors just cannot provide the service at a reasonable cost, or at a highly trained and experienced level.
This is why America (and the world) needs to promote, encourage and continue to develop the profession of hypnotism. Think about it; doctors don't do physical therapy full time, nor do they do occupational therapy full time. Why? Because they can make more money doing what they spent years and years training to do, provide services in their medical specialty. So, who provides physical and occupational therapy with the doctor's patients? Licensed Physical Therapists and Occupational Therapists do! I suggest that we look at how those professions emerged, and see if we can use that information as part of a useful model for the development of the hypnotherapy profession.
Hypnotherapists who are properly trained and certified can (or should be able to) provide their services in two major ways: First as independents who work mostly with non-medical and non-psychological issues (i.e., non-diagnosable issues such as habits and motivation), and then secondly, work on medical and psychological issues when they have been diagnosed, and the doctor (or other licensed professional) refers the client to the hypnotherapist (much the same as a patient would be referred to a specialist in a particular area of medical practice, or Occupational Therapist, or Physical Therapist).
To read more about challenges that our profession faces, and some proposed solutions, please read my Hypnosis Manifesto.
Please leave a comment and let me know what you think of this point of view.