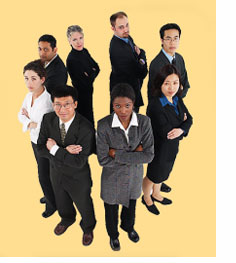 I don't know, is it just me or does it seem like 99% of all hypnotists and hypnotherapists are white people?  After years of training hypnotherapists, I would estimate that only about 5% of the students in the classes I have taught in the USA were "non-whites."  And, I would go further and say that only about 1% were African American.  (Before we moved to California in May of last year [2006], our school was located in Minneapolis, Minnesota where the ratio of whites to non-whites was much greater than the one represented in my classes.)
It is interesting to note that, when I teach in Singapore, the classes are much more racially mixed.  The reason for this is obvious, the country of Singapore is made up of mostly non-whites.  I would estimate that in my classes in Singapore, the ratio of races that are in attendence pretty much match the ratios of the population of that country.  I can't help but wonder why that isn't so in the USA.
It appears that this racial imbalance exists outside of my classes.  As this imbalance can also be observed at national hypnosis events that are held in the eastern, western and midwestern areas of the country.
If this imbalance does exist as it seems to, I would suggest that the profession should look into this.  If my assertion is correct, we should begin an organized effort to bring more non-whites into the profession.  A very good reason for doing this is that we will be able to better serve a greater number of people in the country, because having more people from every race trained and certified in hypnosis, will tend help to make our services widely available to more people.
Furthermore, if this imbalance does exist, reaching out to all races would be the right thing to do.
So, with this being said, I believe that we, as a profession needs to study the topic and see if this observation is correct.  If it is, then we need to look for ways in which we can begin to pierce this invisible barrier that seems to be keeping non-whites away, and keep our profession from becoming more racially balanced.
I look forward to your comments and suggestions.