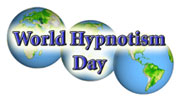 I'm so excited. It is finally World Hypnotism Day, the day that I get started on my 9-Step Weight Loss Plan using The Secret Language of Feelings and 7th Path Self-Hypnosis®. If you have been keeping track up to this point then you know that I have posted my commitment to be at my ideal weight at this years National Guild of Hypnotists Convention in August 2007.
If you need to catch up then make sure that you go to http://www.calbanyan.com/ and read my blog entries Confession of an Overweight Hypnotist and My 9-Step Weight Loss Plan. Then you will be pretty much up to date.
So, where am I at now? Well, I must have been a little bit crazy but once I decided to do this, I gave myself permission to really enjoy a lot of different foods (my wife Maureen says "go overboard") over the last few months. I just love all of the wonderful foods in Singapore so I enjoyed them all while I was conducting my NGH Approved Hypnotherapy Certification in Singapore. And then when I came back home it was the Holiday Season, and boy was that fun! Christmas candy, cookies, and pies were everywhere and I did not hold back one bit.
As a result, I gained a lot of weight. And, there it is for everyone to see. That graphic on the left is a photo that I took of my weight measured by my bathroom scale this morning. (I didn't decide whether or not I was going to post that until just now. I was thinking of keeping it secret until the end of my weight loss program, but then I thought "what the heck" and there it is, my starting point for everyone to see.)
But it's worse than that. It is not just a number on a graphic on a website, almost none of my clothes fit! Why did I do this, you might ask? Well, I know that some of you have been in exactly the same situation, and over the next few months I am going to show you that there is hope. You can lose weight at keep it off if you:
Use Hypnosis to Motivate Yourself
Use Hypnosis to Remove Emotional Problems
Use Hypnosis to Remove Old Habits
Use A Healthy Eating Plan
Use Your Body 🙂
With that introduction I have revealed my starting weight. My plan is to weigh in each month and share those results with you. I hope that more and more of you will be interested in joining me in this commitment so that we can be a wonderful example of how good sense and hypnosis working together can lead to a healthy and slim lifestyle.
Keep checking back because I will keep everyone up to date on my ongoing progress, as well as explaining in more detail what each of the steps are on my 9-Step Weight Loss Plan.
Have a healthy and prosperous 2007!