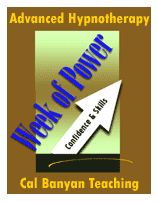 Here is a quick announcement. I just received an email from the National Guild of Hypnotists informing me that my Week of Power 7-Day Advanced Hypnotherapy Certification Course has been selected once again for the NGH Convention.
The Week of Power is a special advanced workshop for hypnotists and hypnotherapists who want to take their skills and their practice to the next level by becoming certified as 5-PATH® Hypnotherapists and 7th Path Self-Hypnosis® Teachers. This course is only taught 2 to 3 times a year and the only two that we have scheduled for this year is this one to be held pre and post conference, and the one we have scheduled to be held in London this Spring of 2007. To learn more or sign up for the course at the NGH Convention go to, https://www.ngh.net/convreg.htm.
And by the way, there is still room, so you can sign up to attend the NGH Solid Gold Weekend in Las Vegas next month. For more information or to sign up go to, http://www.ngh.net/SG2007.html. I'll be there teaching the attendees about our successful business model and how to make more money. Maureen will also be there giving her talk about how to make appointments over the phone and how to dress for success as a hypnotist or hypnotherapist.
See you there! I know we will have a great time, and if you go to the Solid Gold Weekend, you can check out my weight loss progress so far.