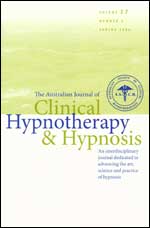 The latest edition of the Australian Journal of Clinical Hypnotherapy and Hypnosis arrived while I was in Singapore, so it was pretty nice to see it sitting on my desk when I got back.
I was looking forward to receiving it because a few months ago the Editor of the journal, Lindsay J. Duncan contacted me and requested that I consider submitting an article for their upcoming edition which would focus on the application of hypnosis and hypnotherapy for smoking cessation. Of course I was honored to be asked, but at first I hesitated, because at the time I was really busy getting ready for a class I was going to teach, as well as having many other obligations. But then on second through, I decided that I really should take him up on the opportunity to speak up on behalf of 5-PATHers everywhere. I also thought that the uniqueness of our approach to handling smoking cessation would be of interest to their readers, and that the article would enable more hypnotherapists to be successful when simpler approaches, i.e., using direct suggestion along was insufficient. So, I "burned the late night oil" as they say, and managed to get it out to him in time. (Well, actually he gave me a bit of an extension on the deadline. He is a very understanding fellow.)
The article is entitled, Two Treatment Groups Hypnosis Smoking Cessation Program. The article discusses our approach to utilizing hypnosis cessation I which clients are screened and placed into one of two treatment groups. We ask our clients a number of questions which enable us to determine whether or not the client is using cigarette smoking to manage emotions, or if it is a simple habit. When we are able to determine that the clients are emotionally motivated to smoke then they receive the 5-PATH® treatment, and if they it appears that the motivation is mostly out of habit, then they are placed into a shorter program, which is a two session, shortened version of 5-PATH® consisting of only one direct suggestion session and one age regression session (in which the client is not regressed based on emotional causes, but rather to their first cigarette).
I want to thank Linday J. Duncan for his assistance with getting the article published. I enjoyed the process and hope to do more work with ASCH in the future. I believe that working with such professional organizations is a very important part of building our profession.
For more information about the article, and the journal please go to the organization's website, www.asch.com.au.