Congratulations to the latest graduates of the 7th Path Self-Hypnosis Ultimate Recognitions course! I am so proud of what you are all doing to take our special form of self-hypnosis throughout Asia and Australia!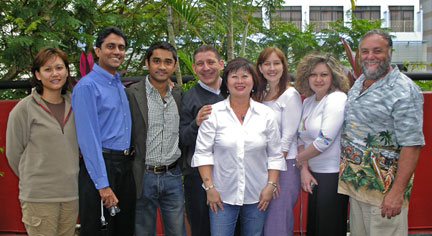 Nicole, Yogesh, Ahmed, Pablo, Linda, Jennifer, Tessie and Bruce!
What is 7th Path? It is an extremely effective way to provide yourself a release from old limiting beliefs and habit patters, while at the same time providing you with a way to program yourself for success. I like to call it, "The very first anti-virus software for the human mind." This is because we accidentally pick up negative programs during our lives (like bad virus programs on a computer), and 7th Path neutralizes and removes them so they won't hurt us or limit us any longer.
What are the Ultimate Recognitions? This advanced method of self-hypnosis consists of learning a series of hypnotic suggestions that you give yourself. When you first start off, you learn at least 5 of these suggestions, which are called the Basic Recognitions. Once those have been learned, the practitioners go on to learning the Advanced Recognitions. All of these Recognitions come in the Short, Full and Ultimate forms. The Ultimate forms are an ultra advanced form of the program with greater emphasis on developing one's spiritual side. It can be a fantastic spiritual journey when you get to this level!
This was a wonderful group of students to work with and teach. They are truly inspired and dedicated to helping spread the teaching of 7th Path Self-Hypnosis and 5-PATH Hypnotherapy as well. This class consisted of students from Singapore, Canada, Malaysia, Australia and Bangladesh.
Once again, congratulations to you all! And, thank you for carrying the 7th Path Self-Hypnosis® program back to your home countries and communities. I know that everyone will be uplifted by it.