First off, to everyone in the USA, happy Thanksgiving Day. Enjoy the friends, family and food. Hmmm…. Food. That brings me to my topic for this post, and for an ongoing project between now and August 2007.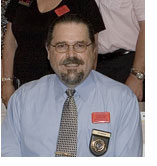 Confessions—it seems are always interesting. Let's find out what you think of mine.
First off, it is not all bad. It started when I first received my certification in hypnotherapy. I started using what I knew about hypnosis to lose weight. However, it was not in and of itself sufficient to bring me much success, so the rest of what I needed to learn about weight loss came from my clients, and that information, or at least a great deal of it, is in my book, The Secret Language of Feelings. With that knowledge in hand and a very special kind of self-hypnosis, now called 7th Path Self-Hypnosis® I managed to lose about 60 pounds. But that was only a partial success.
I suppose that is when it began to happen and here comes the confession. Before I lost all of the weight that I really needed to lose, maybe another 30 pounds or so and reached my "ideal weight" whatever that means, I stopped losing weight and pretty much went into a "holding pattern." I suppose a big part of the problem was that I was pleased with myself for doing so well, at least up to that point. The end result was that I lost motivation. After all, my life was great and no one was after me to lose another pound. And, I think my wife was even a bit relieved as I eased up on my dietary restrictions, and began to eat in a way that seemed to be more "normal" in our house.
I was pretty happy with my success for quite a while; I continued to carry on with the status quo as they say. Then we made the big decision, we decided to move to California all the way from Minneapolis, Minnesota. This was a huge undertaking; moving our entire business, including our school, and not only that, we had to sell a home, and buy another (plus all of that packing and unpacking that goes with that process). It was quite a chore, and since we just moved into our new home about a week ago, we are still up to our hips in boxes. (Life goes on, and before we get all moved in, we are off to Singapore to conduct some hypnosis classes, and I'm writing this in an airport as we wait for Singapore Airlines to ready our plane. I'll post this as soon as we land. Oops, I am off topic, forgive me and I'll get back to the confessions now.)
We arrived in Orange County and "hit the ground running." We moved into a furnished apartment that we expected to serve us for a couple of months while we find a new home, and get our new office up and running. That is when it began, working late, not having a great place to cook when we got home and all of the other challenges of such a big project can provide, and the expected two month stay became six months. And, as the time went by my weight has crept up a bit, putting on about 15 pounds or so. Well, I can see that I need to get back on track, and do so pretty quickly.
Did I mention that I'm headed off to Singapore? This means that I am not going to be in the best situation for losing weight, and getting back on track. But I AM ready to make a commitment and here it is. I commit to coming to the next National Guild of Hypnotists Convention in August, 2007 at my ideal weight. I expect that I will get started right after Christmas. (It is so cliché to wait until the New Year.)
This is what I want to do between now and then:
1. I am going to research a really great eating plan, and find some really great recipes so that I can still have something good to eat each day, but lose some significant weight. I want to have a plan for this in place and kitchen fully stocked with all the right stuff so that I will always have what I need to be successful (you know, celery, lettuce, etc.)
2. I have to figure out what my ideal weight is. I am about 5 foot, 11 and half inches tall, and am 51 years old as of last week. I'm sure there is a proper chart somewhere on the Internet, or I'll go to the doctor and get some advice here.
AND, I'd love to get your input. What kind of eating program do YOU think should I embark upon? Do you have any really great "healthy eating" weight loss recipes?
And, just to keep you all posted on my progress, I am going to report everything right here on this Web log (blog). Hmmm, I wonder how I should do that? What do you think? Would a weekly weigh-in suffice? Or would measurement be better? Let me know what you think.
Here is my plan as of now:
1. I am going to motivate myself using 7th Path Self-Hypnosis®, and reading about weight loss successes. I might also use my new TiVo to record some of those weight loss programs like "The Biggest Loser" or the "Celebrity Fit Club." It is so fun watching others succeed. For me that is always inspirational.
2. I am going to eat in a way that is healthy and will promote excellent weight loss.
3. I am going to exercise every day, with one or two light days of exercise per week, and the rest will be moderate levels of exercise.
4. I am going to drink an ample amount of water.
5. I am going to get an ample amount of sleep, which will probably be a real challenge for me. I have always undervalued getting much sleep. I wish I could operate on 0 sleep! Alas, I hear that it is an important part of being healthy and losing weight. I just bought a great new bed and now it looks like I'm going to get some use out of it.
By the way, I invite anyone who would like to write comments here to do so. And, if there are any other overweight hypnotists who would like to join me in making this commitment, please let me know and we will be successful together!