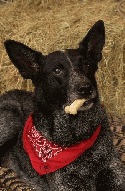 Sometimes I come across something so special that even though it is not about hypnosis, hypnotherapy, etc., I just have to share it with you.
That is the case with Skidboot, one real cowboy's dog, who has an amazing story and an amazing video. I hope you will take the time to watch the video. I think that you will be touched by it.
Thank you Wendie for sending it to me so that I can share it with everyone one.
I hope you will tell others about this wonderful story of love and companionship.