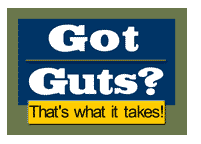 I think that it started when one of my students asked, "What does it really take to be successful as a hypnotherapist." I looked at the class and said, you are going to learn everything that you need to get started in helping people with hypnosis, so the main factor that will separate those of you who actually go out there and use these skills and the ones that do not is "guts!"
I've conducted thousands of hours of training teaching new hypnotists and hypnotherapists the tools then need to be successful in this business, but they need one thing that I cannot give them, at least not in the classroom. They have to find it in themselves. You see, it is natural to be nervous about doing anything new, especially when someone with a problems is coming to you for help. But some people let that initial volley of nervousness rob them of a successful career, and worse yet, that nervousness rob the hundreds or even thousands of people that they could have helped during that career.
I gave them a short speech on the topic of courage. I said something like, if you do what you learn in this class you will change lives and save lives. You will give people some of the most important and memorable experiences of their lives. You will be heroes! I went on to explain that heroes are not fearless individuals who are not afraid when others are, they are the ones who are just as afraid as everyone else but do the job anyway, and as a result others benefit.
I called them to be heroes. To study hard. Learn their lessons. Then apply what they learned in class. If they use the self-hypnosis that they learn in class they can overcome their fears and program themselves for success.
I have one more week with this class. I hope to inspire them as well as educate them. Check back in a week or so and see what they say about the class. Go to http://www.hypnosiscenter.com/ and click on our Graduates link, and see how this class turns out. I think that this class has the guts to do it! My hopes and wishes will go with them.
PS – Remember to read about the National Guild of Hypnotists' Solid Gold Weekend in February. It is going to be grrrrrreat! 🙂