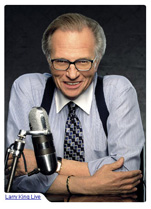 Larry King had the experts from The Secret Movie on his show this Thursday night and it seemed like just about everyone I know was watching.  As you probably already know, I am a fan of this movie and the teaching of the Law of Attraction.
Over and over the experts on the show said that science proves that our thoughts have an affect on our reality in a very real way. 
The Law of Attraction was discussed and they explained that how you feel, not just what you think, or want will attract people and circumstances into your life.  They say that this is all supported by the laws of physics!
Rev. Michael Beckwith, John Demartini, J. Z. Knight, Bob Proctor,  and John Assarrof were all quite inspiring.  I think that Larry King was won over.
Here are some simple steps that they say that you can do to change your life:
1.  Agree with yourself that it can be better.
2.  Recognize that you have the power to decide how you will interpret how you respond to things that come into your life, especially some of the most difficult things.
3.  Deliberately affirm the things that you want to have, and do, through deliberate repetition.
4.  It really starts with an awareness that you are not doomed to think the way that you do.  You can choose new and different thoughts that will cause you to feel differently, and as a result change your vibration which will bring better things, people and events into your life.
5.  Decide what is really important to you, and what you really want, and that will guide you in the way that you can begin to think.
6.  Stop blaming others and start blaming ignorance and old useless programming.
7.  To find true love in another, you need to first fall in love with yourself.
Find your Soul Mate, make more money, live a happier life, and do it by changing how you think, and as a result you will change how you feel, and eventually begin to attract a better life.
To learn more about this powerful new way of thinking and feeling and drawing more wonderful things into your life, visit http://www.thesecret.tv/ and the discussion group on Yahoo, http://groups.yahoo.com/group/thesecretmovie.
I also highly recommend the book, Ask and It Is Given, Learning to Manifest Your Desires (The Teachings of Abraham), by Esther and Jerry Hicks, for more information on the Law of Attraction and the Law of Allowing.
Study this and you will truly understand the power of 5-PATH(R), 7th Path Self-Hypnosis(R), and The Secret Language of Feelings.  When you change your internal programming you change how you feel, and think, and your whole world changes.
Thank you Larry King for spreading the word!
 Special thanks to Lorna who provided us with this link where you can read a transcript of the show!