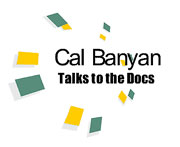 Here is the follow-up to the Cal Talks to the Docs message I posted a few days ago. The whole thing was fantastic. I was introduced by Dr. Eric Robins who suggested me as a speaker. He set things up extremely well for me by making a connection between what we as 5-PATH® Hypnotherapists do and how we can help the physician's patients.Here is the feedback I received from Dr. Eric Robins:
Cal,




I'm writing you to let you know that you did a truly unbelievable job when you spoke to the Physician's Well-Being group today.

I was extremely proud to have suggested you as a speaker because you did a world class job. It was outstanding and your talk far exceeded my expectations and got me re-energized about doing hypnosis.

Cal, you had a room full of physicians captivated. I'll say it again, it was outstanding and you did a really great job. You should give that talk to more physicians! I'll help get the word out.

Thanks,
Eric Robins, MD
Afterwards, several doctors came up to me to buy books and have them autographed. They were especially interested in my book, The Secret Language of Feelings. I also found that some of them wanted to talk about sessions for themselves (remember, doctors are people too). I was told that my talk actually brought some of them to tears, and that my talk "resonated" with some of their own issues (I gave them a brief case history about the amazing story of how a client who went through 5-PATH® with me regained his sight, which is a very touching story in itself).
I think that what appealed to this audience most was how old programming from the past can cause so many problems now, ranging from bad habits to addictions, and chronic illness to psychosomatic illness.
All around it was a wonderful experience. My impression of the Kaiser Permanente physicians was that they are a very professional, courteous, attentive and open minded group of medical professionals. I hope to speak to them again some time, and I would love to help them in any way that I can so that they can begin to integrate high level hypnotherapy (i.e. 5-PATH®) into their programs.