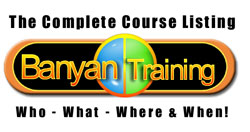 We've been meaning to get to this for a long time. Now all of our courses, including the courses of the instructors who are coming to our center, and the other fine courses that we list on the www.BanyanHypnosisMall.com website are all on one page.
This way anyone can take a quick scroll through our entire list of courses and see what is going on for any period that we have scheduled a course.
Here is a quick link to the page, www.BanyanHypnosisMall.com/AllClasses. Check back regularly because it will be updated each time we add a class.
Scheduled or soon to be scheduled teacher/trainers are:
Ron Eslinger
Shaun Brookhouse
Tom Nicoli
Wil Horton
Marilyn Gordon
Richard Harte
And, more!