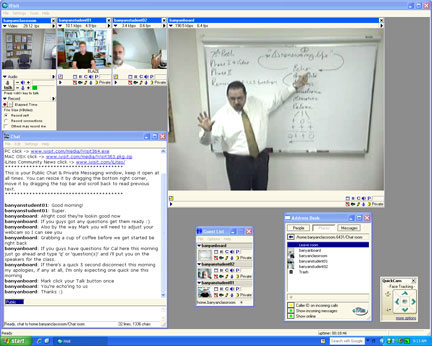 The Week of Power Advanced Hypnotherapy Course with 5-PATH® and 7th Path Self-Hypnosis® is now in progress and it is more fun than ever. In case you didn't know we are now broadcasting the course over the Internet, and we have two off-site students in the class. It is so amazing to stand up there at the front of the class and simultaneously teach those who are there with me in the classroom and two students who are enjoying the same course content live over the Internet.
It really is an amazing situation be cause our two students, one in New York and the other one who is in Virginia are completely able to interact with me and the other students in real time. If they have a question, they just ask it, and everyone in the class hears it, and I can respond. In fact there was quite an interesting dialog that occurred yesterday between the on-site students and one of the off-site students. It was so 21st Century!
I look forward to continuing to conduct our classes in this way. It really is exciting now that students who would otherwise not be able to attend my classes can. Check out our website to learn more about our hypnosis training course, we have an NGH approved hypnotherapy certification course coming up in November here in California, December in Singapore, and then another back here in California in March. It is our intention to continue broadcasting our courses that are held in California over the Internet. If you have any more questions about our courses and attending on or off site, give our office a call at 714-258-8380 or 800-965-3390.