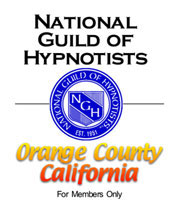 I was very impressed with the turn out last night! It was our very first meeting of the NGH Orange County, California Chapter. New members packed our classroom; energy and enthusiasm filled the air.
I was happy to lead this first meeting held in our classroom at our center in Tustin. As I led the first meeting, the discussion turned to a member telling me that they were excited because they had felt like they could really use the mutual support and focus that an NGH Chapter was going to give them.
As we discussed the new Chapter, many of the hypnotherapists in the room told me that they had belonged to other organizations but really did not feel like they were as cohesive or supportive as they expect the NGH Chapter to be. I know that things are going to be different now that we have an NGH Chapter here in the OC because we sponsored one for several years in Minneapolis, Minnesota before we moved a few months ago. Based on my experience supporting the Minneapolis NGH Chapter, I expect that this new Chapter will serve as a basis for a new feeling of strength and fellowship in Southern California which will lead to a lot of new energy in the hypnosis world here.
After some discussion about the purpose of the hypnosis organization the group came up with the reasons that they wanted to have an NGH Chapter here in Orange County, CA.
Meet and network with other hypnotherapists in the area.
Learn more about hypnosis and earn NGH CEUs.
Build NGH membership and the profession as a whole.
Build a referrals directory and mutual marketing efforts.
Combine resources and provide a database of legal information about practicing hypnosis in California.
After the meeting I took the group on a tour of the Banyan Hypnosis Center facility. I think everyone enjoyed seeing what can be done with a professional hypnotherapy practice. We hold our center up as a model of what can be done when a sound business model is combined with leading edge hypnotherapeutic techniques such as 5-PATH® and 7th Path Self-Hypnosis®.
I want to take this opportunity to put out a call to all hypnotists, hypnotherapists and those interested in seeking training in hypnotism, regardless of whether you are an NGH member or not, you are invited to our next meeting! We want you to come and meet us and learn about us, and then we think that you will want to join us.
Next National Guild of Hypnotists, Orange County, California Meeting will be held at our office at 1431 Warner Avenue, in Tustin on November 8th, 2006 at 7:30 PM. Coffee, snacks and hypno-friendships will be provided.
By they way, there is more information available on the web:
We all look forward to watching this new NGH Chapter and the profession grow here in Southern California, and we hope that you will join us as we make history together!