Week of Power Advanced Hypnotherapy training course is coming to the UK in April 2007! I have to tell you that I am very excited about bringing this course to the UK next year. I have never been to the UK before and this is going to be a great time to do it!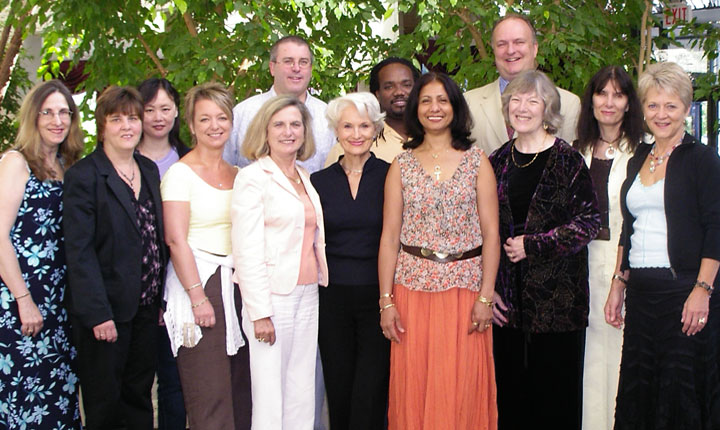 In case you didn't know, our Week of Power program is an advanced hypnotherapy training course for hypnotists and hypnotherapist who want to greatly boost their skill level and confidence. The core of this course will consist of training and certification in 5-PATH® and 7th Path Self-Hypnosis®. Sincerely, I can tell you that the hypnotherapists who take this course and master the material can be considered among the very best in the profession.
Here is a photo of the latest class to graduate the Week of Power Advanced Hypnotherapy Course held this year at the NGH Convention. I follow it with just some of the wonderful feedback that we received from these happy grads.
"As someone who originally qualified with distance-learning, I found the Week of Power awesome and very aptly-named. I thought I was doing pretty well before, but now I feel like I'm doing at least twice as well! I would recommend this course to anyone who really cares about becoming the best in their field, including 5-PATHERS who have already taken the training previously. We're not called One Per Cent-ers for nothing!"
Niki Cassar DCH, DHP, GQHP, UK
"I thoroughly enjoyed the week of power. Cal's teaching was excellent and his wit, warm and wisdom made it a most enjoyable, enriching and enlightening experience."
Tricia Woolfrey FCIPD, MNLP, UK
"I think now that I have been back in the field I have so much better an idea of what I received on the Week of Power. When I signed up for the training I thought it would be useful to have a structure around which I could process my work with clients. The training has certainly delivered on that score but what I had not expected was how generous and inspired a trainer Cal is. The love, care and attention he brings to his work is truly awesome and yet exactly as it should be! This means that, in my experience, the vast majority of trainers out there – and I have seen a fair few in my years – use training events as ego massaging and ownership staking of their particular patchworking of other people's reworking of previous ideas and that Cal brings training back to what it ought to be: the mindful garnering and harvesting of one lot of experience offered for the enrichment of one's peers and students. Cal has inspired me to remember what I know and to believe in my ability to apply and develop the skills that I have been shaping with my senses over the years of my life. I am sitting so much more comfortably in myself and therefore so much more deft at what I am doing. The 5 'n 7 PATH system has brought a clarity and a wonderful ongoing international community of support to the development of my work. So thank you Cal Banyan, thank you."
Foszia Turner-Stylianou, CH , UK
"5-PATH® has given me a system to follow so I feel like I know what I am supposed to do with my clients. The class was very comprehensive and I felt that I had all I needed to begin using 5-PATH®. I purchased the online supervisions CD's during class. I must say it is the best money I've spent. It is an extension of what we talked about in class, but Cal goes into much more detail. I really appreciate the transcript of what is on the CD that is included. Usually I will transcribe a learning CD, so this has saved me a lot of time and work. This CD set is worth every penny I paid! I think what impressed me the most was the amount of information that Cal shares with his students and the amount of information he puts in writing. That is so different from a lot of classes I've taken. Cal seems to go the extra mile and genuinely wants you to be successful. Thanks for a Great Learning experience."
Debbie Preston, CH, New Hampshire
"The Week of Power was a review of 5-PATH and 7th Path for me. There is so much useful information and insight packed into one week! The second time through I absorbed even more of it. I've taken classes all over the country and this one is the best by far. It wraps all the theory and practice into a logical and organized process, one that can really be applied with clients. Now I know what to do in each session… and what comes next. Cal Banyan's Week of Power really pulls everything together. If anyone is floundering with clients or feeling like they are "winging it", I think they should take Cal's class. It is so worth the money and the time! Everything is covered; the 5-PATH hypnosis processes, getting started, booking clients, advertising, ethics, and even expanding to a hypnosis center. The learning doesn't stop with certification; Cal continues to support his graduates with his supervision CDs, online information and groups' interaction. Cal and Maureen Banyan are a great team; their practice is an excellent model to emulate and they are very willing to share their experiences. 7th Path Self Hypnosis is a unique process teaching clients how to clear their own issues and allow abundance. I don't know of another process like it! The class interaction and Cal's support during 7th Path is an experience I won't forget. You've heard the rest, now learn from the best! Be a 1%-er!
Thank You, Cal, Maureen and all the classmates in The Week of Power at NGH'06!"Cindy Brooks, CH, New Hampshire
"My week of learning 5 path was far more then I expected. Even though I was feeling good about my 4 years of working with clients,I was ready for something more powerful. I was especially impressed with the regression and forgiveness part of the training and started using the techniques immediately upon returning home. I am thrilled with the results so far and look forward to helping a lot of people in the future. Thankyou Cal Banyan for the excellent training. Thankyou to Maureen for the great phone tips which work very well.All the best…" Wanda Mang, CH, Canada
For more information call our office at 714-258-8380 or 800-965-3390.
Click for more information about this Advanced Hypnosis Training Course.