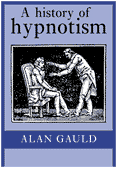 Most hypnosis certification courses don't go into any depth about the history of hypnosis.  Should they?  Or, is it alright to just know what to do to help clients do what they want to do?
What do you think?  Is it important to know if your instructor discovered or created all of the material that he or she is teaching?  Does it matter really? 
What would be the effects of not citing sources for our material?  If we do cite the material how much should we cite?  I hope you will read my new article on this topic.   
Ever wonder who discovered or created: hypnosis, somnambulism, depth testing, depth scales, the principles of hypnotic suggestion, hypnotic age regression, Parts Therapy, self-hypnosis, and so on?  Did your instructor leave that out?  I know that I often do.  Normally, I only cite who taught me and my major influences.
Can anyone recommend a really good history book that includes the modern history of hypnosis?  I'd read it and make it recommended reading for my courses.