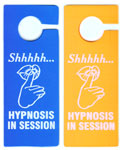 As you probably already know we introduced a new line of hypnosis gear just in time for the NGH Convention! In earlier posts I showed you our new Certified Hypnosis Pro mug and cap, great way to passively promote your hypnosis practice by the way. But today I'm here to tell you about our wildly successful door hangers.
I tell you, these were the most popular items at our table at the convention. We literally thought we might run out. Everyone who visited our table seemed to want at least one and they said that it was just what they had been looking for.
Now, all you have to do is hang one of these professionally designed door hangers on your office door and everyone knows they need to "Shhhhh… Hypnosis in Session." Click on the door hanger graphic and get the details, and order a couple if you like. They are just $5.00.
And, by the way, thank you Maureen for the very cool idea.
Leave a comment about this idea and offer other ideas for hypnosis gear that you would like to see become a part of our Certified Hypnosis Pro line of hypnosis gear.