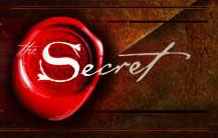 The movie The Secret is "all the buzz" in the hypnosis community, and if you haven't heard about it yet I want to be the first to tell you about it.
The Secret is an inspirational and instructional movie similar in feel and message as the movie What the Bleep Do We Know! I think that after you have seen The Secret you will want to share it with everyone you know. Watch it on DVD or as streaming video from their website, www.TheSecret.tv, and I believe there is a very good chance that you will get excited. (I know I did, because this is just the kind of information that needs to get out there.)
In this movie you will learn about the "Law" (hint without giving away the movie) and how it affects all of our lives in a very meaningful way. And for those of you who know about our advanced hypnotherapy system, 5-PATH® and our mind-body-spirit self-hypnosis system 7th Path Self-Hypnosis®, you will immediately get the connection and you will see how our systems are among the most powerful ways to utilize the principles revealed in the movie.
So all you 5-PATHers and 7-Pathers out there, this is highly recommended viewing. You will get a better understanding of how our hypnosis systems work. I would almost suspect that the producers of this movie are 7th Pathers themselves, or at least read my book, The Secret Language of Feelings. And, you have to admit there does seem to be an almost spooky similarity between the title of my book and the movie. Hmmmm. 😉
Now go see the movie, and if you already have, then please leave a comment about it.