Marketing is so much easier when people just come up to you and ask you about your services, don't you think? And, wouldn't it be much nicer if you had a great looking coffee mug or cap that would help you to accomplish that? Well, we agree and introduce the launch of our new Certified Hypnosis Pro™ line of hypnotist accessories. These items wil invite everyone to ask you about hypnosis, and then you will get that magical question, "Can you help me with _________," fill in the blank. Then you can just whip out your appointment book and you have a new appointment.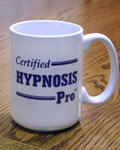 We are starting off with these great looking caps and mugs and will be expanding the line very soon. In fact we have one more secret item that will be announced at the NGH Convention in just a few days.
Go to www.BanyanHypnosisMall.com and learn more about these items. Tell your friends!