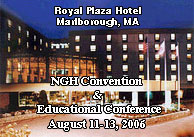 Okay that's it. If you haven't already done it, it is time to do it; register for the National Guild of Hypnotists 2006 Convention on august 11 – 13. I know that you will be glad that you did.
There are literally hundreds of seminars at the convention, ranging from one hour talks (which are included in the price of the convention), 2 to 4 hour seminars, day long seminars, and pre/post-convention workshops like my Week of Power certification course. It is the largest, most informative and friendliest hypnosis convention in the world.
Before, during and after the convention you are going to find some of the top trainers in the field offering courses and certification programs. Here are a few of my friends that you will recognize from the Banyan Hypnosis E-Zine who will be at the convention presenting: Dr. Richard Harte, Jerry Valley, Ron Eslinger, Tom Nicoli, Shaun brookhouse, Roy Hunter, Charles Curtis, and of course Maureen Banyan. You will also get to "rub elbows" with some of our other wonderful writers who will not be presenting, Celeste Hackett and Anne Shuman Urban! It is going to be a really fun and educational time for everyone who attends.
Of course as you know I'll be presenting two seminars and a certification course:
Contact the NGH today and pre-register for these courses, they do fill up! Call (603) 429-9438 and tell them, "Cal sent you!"
Stop by our booth and say "Hello" and let me know you read the blog.