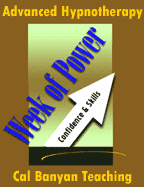 Here is a kind of last minute announcement about my upcoming presentation of the Week of Power Advanced Hypnotherapy Certification Course! It will be offered for the first time ever in it's full form, a complete 7 day course at the NGH convention, located in Marlborough, Massachusetts.
The Week of Power is a skill and confidence building course designed to provide you with the skills you need to confidently work with a broader range of clientele and have greater success with the most difficult cases. It is a systematic approach that incorporates some of the most powerful hypnosis techniques available in a way that maximizes the potential of each, including instant and rapid inductions, covert and overt testing/convincers, age regression, parts therapy and more.
Here are a couple quick links for more information:
If you have any questions about this course, call our office at 714-258-8380 or 800-965-3390. Seating IS limited and the time IS running out. Catch this once a year course pre and post NGH convention (Pre and post meaning, the 3 days before and the 4 days after the convention). Participants will need to register through the National Guild of Hypnotists.
See you in class!