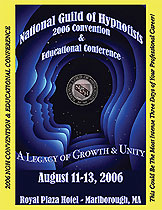 Well, I hope that most of you have made the decision to go to this years NGH Convention in Marlborough, Massachusetts. It is always worth the trip. There is just so much to do there with all of the training and networking that goes on. Just in case you have any questions about the convention, give the NGH office a call. Here is a link to the NGH website so that you can get all of the latest information, www.NGH.net. And, by the way, I am going to be presenting a couple of workshops, and a week long 5-PATH® and 7th Path Self-Hypnosis® Certification, aptly named The Week of Power. If you are looking to build your skills and confidence in your ability to work with a wide range of issues, this is the advanced hypnosis training workshop that you have been looking for.
What? You haven't made up your mind yet to go to the convention? Maybe this will help you out.
Here is my Top Ten List of Good Reasons to Go to the Convention:
Get your CEUs for annual recertification.
Get more certifications and training in hypnosis specialties such as pain management.
See you classmates from YOUR NGH Hypnotherapy/Hypnosis certification course again.
See some of the friendly 5-PATHers from the email groups on Yahoo!.
There are lots of free seminars to attend on a wide variety of hypnosis subjects.
Meet the leading trainers in the field of hypnotism such as, Jerry Kein, Don Mottin, Roy Hunter, Ron Eslinger, Shaun Brookhouse, Jerry Valley, Dr. Richard Harte, Charles Curtis and Tom Nicoli and many others! Articles and products available on the Banyan Hypnosis Mall!
Make new friends and colleagues at the convention and expand your contacts and referral base.
Attend the fabulous banquet, awards presentation and evening entertainment!
See who gets this year's 5-PATH® and 7th Path Self-Hypnosis® awards.
Great place to get the latest books, CDs and DVDs from a wide variety of sources.
And, most of all, Maureen and I want to see you all and talk about how things have been going for you and help you to have an even better year ahead.
See you at the convention!