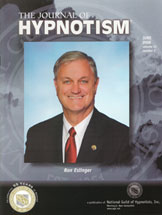 Congratulations to Ron Eslinger for his wonderful interview with Dr. Dwight Damon in the National Guild of Hypnotists' (NGH) Journal of Hypnotism and getting his photo on the cover!
Let me tell you about my friend Ron Eslinger, he owns and operates Healthy Visions in Oak Ridge, TN. He is a Captain, USN, Retired, and was selected researcher of the year 2003, by the NGH and nominated by the Navy to represent the Department of Defense to the NIH's committee on Complemntary and Alternative Medicine (CAM). He has been a Certified Registered Nurse Anesthetist since 1975. He is also a Board Certified Hypnotist through the NGH.
In the article Ron says that be believes that, "hypnotism is on the verge of being the consumer's number one choice in chronic pain management." And, that "It is clinically proven. It is evidenced based. It is affordable. It is non-addicting. It is non-invasive." And, also, "It has the support of the National Institues of Health and Joint Commission for accreditation of Health care Organizations."
Also in that article, Ron points out that hypnotists and hypnotherapists who would like to add pain management to his or her practice, additional advanced work and certification is highly recommended. I totally agree with Ron, and that is why we worked together to produce and publish his HypnoAnesthesia for Pain Management DVD home study program. It is an excellent program which continues to get very good reviews from the hypnotists and hypnotherapists from around the world how have taken the course.
While I am at it I want to thank Dr. Dwight Damon for heading the NGH and producing such an important professional journal as the Journal of Hypnotism has become.
Ron Eslinger also writes for the Banyan Hypnosis E-Zine.  You can read those articles and learn about his upcoming live courses by going to www.BanyanHypnosisMall.com.