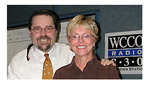 I just wanted to let everyone know that I am going to be on the radio again. At first I wasn't going to tell you all about this, because the radio station is in Minneapolis, Minnesota, but I just found out that the radio station broadcasts over the Internet. So that means that everyone can listen in!
Here is the information that you need. Go to http://www.wccoradio.com/ and click on the small blue Listen button near the top of the page near the center. On my screen the Listen button was about three inches down from the top. You will have to fill in a short form and activate an audio player which may make take a minute to do, so sign in early. If your browser blocks pop-ups you may have to temporarily turn off the pop-up blocker. It's easy. Instructions will come up on your screen. I would especially like to encourage you to call in and talk about hypnosis. 
You see, the producer is concerned that there may not be enough to talk about for a "whole hour"! She was not the producer the last time that I was on the show, so she doesn't know how excieted the audience gets when we talk about hypnosis. So I told her that I had been on the show a few times before and the last time I was on, we went for an hour no problem; that is why Pat Miles (the shows star in the photo, top left) wants me to come back again.
I think it would be great if we could get a whole bunch of hypnotists calling in and talking about how great hypnosis is for helping people in so many ways. I know that it will be a long distance call for most of you, but the station is heard across the USA. You will have the chance to do a good deed for the hypnosis profession, and maybe get your name out there.
Oh, and if you like, you can listen to some other interviews that I have done on the radio by going to either http://www.hypnosiscenter.com/ or http://www.banyanhypnosismall.com/