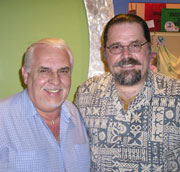 Oh, what a night! Last night I had the immense pleasure of taking my wife, Maureen out for Mother's Day and dining with Jerry Valley and his wife Pat at the steakhouse at the Disneyland Hotel in Anaheim!
I hope you will enjoy a couple of the photos from last night. It was such a warm and wonderful evening because Jerry and Pat are such delightful people. I am always impressed with Jerry's knowledge about hypnosis, his caring attitude, and desire to teach others. We spent the night talking about mutual friends in the profession of hypnosis, and exchanged a few insider tips, tricks and techniques.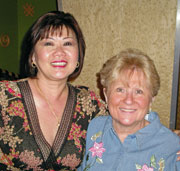 I'm not going to drop any names, I don't think that Jerry would approve, but I want to tell you that he has taught some of the leading and most famous stage hypnosis performers who have made a name for themselves. I hope that if you have any interest in hypnosis, stage or clinical, you will take one of his stage hypnosis courses.
Let me tell you, I'm not a stage hypnotist, and I never intend to do a stage show, but I'm glad I took his course. If you take on of his stage hypnosis courses you will learn more about hypnosis, human nature as it relates to hypnosis, and plenty of insider tips, tricks and techniques!
While we were having dinner, I managed to confirm that Jerry Valley and Tommy Vee are going to do the Meet the Pros Online Seminar Program in just a few days. Remember it is free, and anyone with an a PC and an Internet connection can sit in. Here are the details…
If you know someone who would like to attend this free online seminar, please send them this information. Please submit any technical questions about attending this seminar here, http://tinyurl.com/z3wwl and selecting "Meet the Pros Audio Seminars" from the drop-down menu.
I hope to see you all on line on May 23rd!