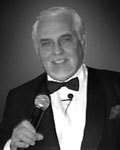 Here's the news. I just got off the phone with Jerry Valley, the world famous stage hypnotist, and he has invited my wife Maureen and I out to dinner at the Disney Hotel Steak House! Well, that might not be big news to you but it means I'm in for quite a night! Jerry is a lot of fun and I'm looking forward to it!
Okay, on to the real news. I have talked Jerry into doing another Meet the Pros Live Online Video Seminar! So if you would like to get more information about what is really going on during a professional stage show, you have got to attend. Here are the details…
Name of the Seminar: Inside Secrets of Stage Hypnotism
Presenters: Jerry Valley and Tommy Vee
Date: Tuesday, May 23, 2006
Time: 9:00 PM Eastern Time, 8:00 PM Central Time, 7:00 PM Mountain Time, and 6:00 PM Pacific Time.
What you'll learn:
Secrets that take a routine from good to brilliant.
How easy it is to do a stage show.
How to get and ask great fees.
How to romance the audience so that they love you!
How to get people to want to volunteer for the show.
How to make extra money by selling tapes/CDs and Videos after the show.
How to have fun and get paid for it.
Find out what you must get from a stage hypnosis instructor to be successful in the business.
AND, there will be plenty of time to ask any questions you want! Imagine that, not only do you get all of the cool insider information about stage hypnotism, but you get to ask Jerry Valley and Tommy Vee any question you want about how they manage to get people to do all those funny things on stage!
This is a "don't miss" event!
Now, because of technical restrictions on broadcasting live video over the Internet, we will only be able to let about 20 people into our virtual classroom. So I suggest that you plan on logging in about 15 minutes early to make sure that you get in for this special presentation.
By the way, those who attend this live seminar will be eligible for a special discount if you decide to take Jerry Valley's and Tommy Vee's stage hypnotism training in Las Vegas in June. For more information about that course visit Jerry Valley's Ultimate Stage Hypnosis Seminar. You will also find links to some cool stage hypnosis videos you can watch right now.
Here is a link to an instruction page for using our virtual room. You will not be able to actually enter the room until we open it up for you. Here will be your password for the event when you do login, "JVTV2" (without the quotes and typed in all caps).
Instructions link, http://www.hypnosiscenter.com/guides/prosguide.htm
The best way to participate is to have a webcam, but it is not required. If you have a webcam you can talk and Jerry Valley, Tommy Vee, me and everyone else in the room can hear and see you, which is very cool. But, just about any PC with speakers will work for you to listen in, and then you can just type any questions you have into the window of the virtual classroom.
If you know someone who would like to attend this free online seminar, please send them this information. Please submit any technical questions about attending this seminar through this contact form and selecting "Meet the Pros Audio Seminars" from the drop-down menu.