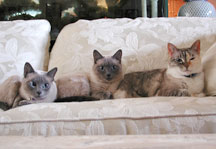 Our home just went up for sale! You are all welcome to take the virtual tour and see what the Banyan "Homestead" in Minnesota looks like!
AND, if you happened to know someone who would like to move to Coon Rapids, Minnesota (a suburb of Minneapolis/St. Paul) tell them about our virtual tour. It really is a beautiful home, in a beautiful location near the Mississippi river, on Coon Creek, with the creek and pond surrounding ¾ of the home.
Link for virtual tour, http://www.circlepix.com/tour.htm?id=383340&mls_tour=1 Click "VIRTUAL IMAGES".
Link for details about our home, http://matrix.northstarmls.com/Matrix/Public/Email.aspx?ID=1803994499
Cats; Meeka, Moacha and Mooka, are not included! 🙂