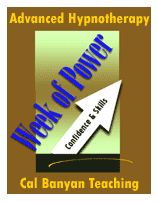 As many of you know, once or twice a year I teach our Week of Power, Advanced Hypnotherapy Program at the Banyan Hypnosis Center for Training & Services, Inc. This class is for hypnotherapists who were trained somewhere else and want to become 1%'ers by becoming certified in 5-PATH™ and 7th Path Self-Hypnosis®. This has been the perfect route for hypnotherapists who were previously certified elsewhere and now want to take their practice and skills to the highest levels.
Broaden the Scope of Your Practice
Use the Most Powerful Techniques Available
Gain the Respect of Your Peers by Becoming Certified in 5-PATH™!
Become a Teacher of our Exclusive 7th Path Self-Hypnosis® a Very Special Mind-Body-Spirit Approach
Over the years I have been teaching 5-PATH™ only certification courses at the NGH convention, first as a very condensed 2-day class, then because of the success of the course, we managed to get the course extended first to a 3-day class and then finally last year it was a 4-day class, which was MUCH better. But, there continued to be the problem of not having time to teach 7th Path Self-Hypnosis®. Well, I am very happy to report that things have just changed for the better!
For the first time ever, we are going to be able to teach the whole course at the NGH Convention, the whole 7-day sha-bang! I am so excited about this. The dates will be the three days before the convention and the next four days after the convention, August 8-10 and 14-17, 2006.
5-PATH™ is an advanced form of hypnotherapy. In this course you will learn the skills to be successful with virtually any problem that your client brings into your office. This is an elite training for serious hypnotherapists only.
If you have been waiting for the right opportunity to train in the use of 5-PATH™, this may have been what you have been waiting for. Calvin Banyan has been invited to do a 7 Day NGH Pre and Post Convention Workshop on 5-PATH™, the fastest growing systematic approach to hypnotherapy.
The course will be conducted on the Monday, Tuesday, Wednesday and Thursday following the convention.
The tuition for this course will be posted very soon! Advanced enrollment will help guarantee you a seat in this information packed, fun and interesting course. Class size is limited.
Everything is included in the 7 days of the course and you will receive a complete run through of all the material needed for certification. You also get a very special day of practical discussion of how to apply 5-PATH to issues such as smoking cessation, weight loss, removing fears, and special time spent answering your questions.
This high quality course includes classroom instruction, videos, demonstrations and practice time, 200 page manual and handouts.
Tuition includes manuals and certificate.
Call our office for additional information at 714-258-8380 or 800-965-3390 and ask for Maureen. Or email Contact us by E-Mail. You can also call the National Guild of Hypnotists and enroll now, (603) 429-9438 (www.ngh.net).
More Hypnosis Training Information