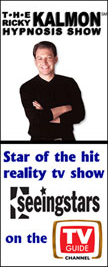 If you have cable TV then you have probably seen Ricky Kalmon, the stage hypnotist. Ricky Kalmon is a great example of the kind of success that can be accomplished by becoming a stage hypnotist! I hope you catch him on the TV Guide Channel!
Unfortunately Ricky Kalmon does not teach stage hypnosis, but Tommey Vee and Jerry Valley do! I hope you will check out the cool video by Ricky Kalmon and decide that you would like to learn how to be a stage hypnotist. Learn how to be a stage hypnotist and you have definitely embarked on a career that involves having just about as much fun as you can have at work!
Watch two great Ricky Kalmon videos now!
Video 1 Video 2
So, if you want to learn stage hypnosis and maybe become a star, check out the www.BanyanHypnosisMall.com website!